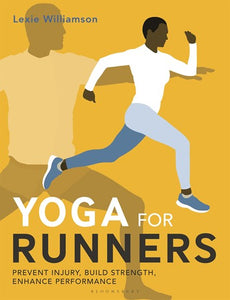 The bestselling guide to using yoga to become a stronger, smoother runner.
Are you struggling to improve your running pace? Frequently left with tight, sore muscles? Do you wish you could get your breathing under better control? Yoga could be the key to improving your running performance and avoiding injury.

Running is a fantastic cardiovascular exercise; it floods the body with 'feel good' endorphins and is considered a natural stress-reliever. And yet, all runners will be familiar with the downside of the repetitive motion which taxes the hamstrings, quadriceps, hip flexors and Achilles while neglecting the remaining muscles. This leads to a muscular imbalance which in turn increases likelihood of injury.
Yoga for Runners is here to address this imbalance by using yoga postures that both stretch and lengthen these short, tight running hotspots in a way that is time-efficient and highly targeted. This book will also explore breathing and concentration techniques to allow you to be able to breathe deeper, train longer, and stay focused in the heat of the race.
With practical advice and step-by-step photography, Yoga for Runners is suitable for runners at all levels, from the casual jogger to the ultra-marathon veteran. This the ideal guide for using yoga to become a stronger, smoother runner who is less prone to injury.