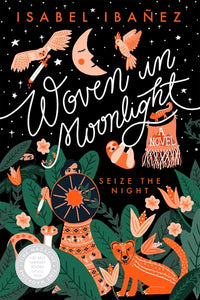 A lush tapestry of magic, romance, and revolución, drawing inspiration from Bolivian politics and history.
"A vibrant feast of a book." - Margaret Rogerson, 
NYT
 bestselling author of 
An Enchantment of Ravens

"Pure magic." - Shelby Mahurin, 
NYT
bestselling author of 
Serpent & Dove
"A wholly unique book for the YA shelf." - Adrienne Young, 
NYT
 bestselling author of 
Sky in the Deep
"A spellbinding, vivid debut." - Rebecca Ross, author of 
Queen's Rising

Ximena is the decoy Condesa, a stand-in for the last remaining Illustrian royal. Her people lost everything when the usurper, Atoc, used an ancient relic to summon ghosts and drive the Illustrians from La Ciudad. Now Ximena's motivated by her insatiable thirst for revenge, and her rare ability to spin thread from moonlight.
When Atoc demands the real Condesa's hand in marriage, it's Ximena's duty to go in her stead. She relishes the chance, as Illustrian spies have reported that Atoc's no longer carrying his deadly relic. If Ximena can find it, she can return the true aristócrata to their rightful place.
She hunts for the relic, using her weaving ability to hide messages in tapestries for the resistance. But when a masked vigilante, a warm-hearted princesa, and a thoughtful healer challenge Ximena, her mission becomes more complicated. There could be a way to overthrow the usurper without starting another war, but only if Ximena turns her back on revenge--and her Condesa.