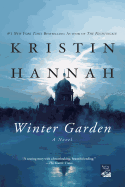 Fiction, Paperback
Mesmerizing from the first page to the last, Kristin Hannah's Winter Garden is one woman's sweeping, heartbreaking story of love, loss, and redemption. At once an epic love story set in World War II Russia and an intimate portrait of contemporary mothers and daughters poised at the crossroads of their lives, it explores the heartbreak of war, the cost of survival and the ultimate triumph of the human spirit. It is a novel that will haunt the reader long after the last page is turned.
1941. Leningrad, a once magical city besieged by war, cut off from aid, buried in snow. A city full of women desperate to save their children and themselves...
2000. Loss and old age have taken a terrible toll on Anya Whitson. At last, she will reach out to her estranged daughters. In a halting, uncertain voice, she begins to weave a fable about a beautiful Russian girl who lived in Leningrad a lifetime ago...
Nina and Meredith sit spellbound at their mother's bedside, listening to a story that spans more than sixty years and moves from the terrors of war-torn Leningrad under siege to modern-day Alaska.
In a quest to uncover the truth behind the story, Nina and Meredith discover a secret so shocking, so impossible to believe, it shakes the foundation of their family and changes who they believe they are.
"Another powerful story of family love, and strong women...a fascinating story that weaves fairy tales into reality, fairy tales that don't always have the expected endings."--The Herald-News
"...a gripping read. Hannah's audience will find plenty to discuss in this enthralling entry."--Booklist