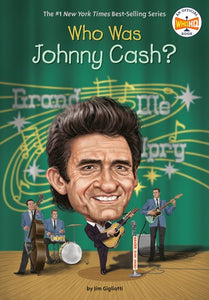 Was Johnny Cash always the rebellious Man in Black that we remember him as today? Find out in this biography from the #1 New York Times bestselling series that takes us from Cash's childhood on an Arkansas cotton farm to his first days in rockabilly through his most famous years as a country music legend and icon of American songwriting.
Due to his wide range of musical talent and an incomparable career spanning forty-nine years, Johnny Cash has been inducted into the Country, Rock and Roll, Rockabilly, and Gospel Halls of Fame. He also won 18 Grammys and 9 Country Music Association Awards. 
Who Was Johnny Cash?
 lets young readers learn about every step in Johnny Cash's groundbreaking musical career. As one of the best-selling American musicians of all time, Cash, born JR Carter, was known for his rich, deep voice and musical style that featured a chugging, train-like beat.