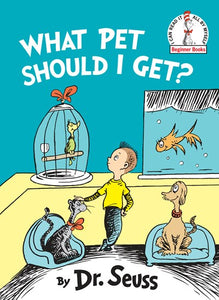 Pick a pet with Dr. Seuss with this bestselling and silly tail of cats, dogs and more!

A dog or a cat? A fish or a bird? Or maybe a crazy creature straight from the mind of Dr. Seuss! Which pet would YOU get? A trip to the pet store turns into a hilarious struggle when two kids must choose one pet to take home... but everytime they think they see an animal they like, they find something even better! Perfect for animal lovers and Seuss lover alike, this book will delight readers young and old.
Discovered 22 years after Dr. Seuss's death, the unpublished manuscript and sketches for 
What Pet Should I Get?
 were previously published as a 48-page jacketed hardcover with 8 pages of commentary. This unjacketed Beginner Book edition features the story only.
The cat?
Or the dog?
The kitten?
The pup?
Oh, boy!
It is something
to make a mind up.

Originally created by Dr. Seuss himself, Beginner Books are fun, funny, and easy to read. These unjacketed hardcover early readers encourage children to read all on their own, using simple words and illustrations. Smaller than the classic large format Seuss picture books like 
The Lorax
and 
Oh, The Places You'll Go
!, these portable packages are perfect for practicing readers ages 3-7, and lucky parents too!
"Pretty much all the stuff you need to know is in Dr. Seuss." -President Barack Obama