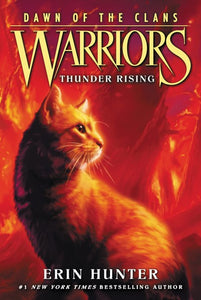 Discover the origins of the warrior Clans in the second book of this thrilling Warriors prequel series from #1 nationally bestselling author Erin Hunter--now featuring fierce new art. The Dawn of the Clans series takes readers back to the earliest days of the Clans, when the cats first settled in the forest and began to forge the warrior code.
The mountain cats from the Tribe of Rushing Water followed the Sun Trail to a new territory, convinced that in a land with more prey, their lives would be free from strife. But while no cat has gone hungry, tensions are rising. The once firmly united group has split in two--and a young cat named Thunder is caught in the middle.
Dawn of the Clans #2: Thunder Rising also contains an exclusive bonus scene and a teaser to the next Warriors adventure.