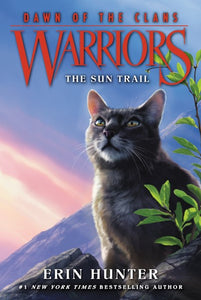 Discover the origins of the warrior Clans in this thrilling prequel to Erin Hunter's #1 nationally bestselling Warriors series--now beautifully repackaged with striking new cover art!
The first book in the Dawn of the Clans series takes readers back to the earliest days of the Clans, when the cats first settled in the forest and began to forge the warrior code. Long before Firestar left his kittypet home to join ThunderClan, a band of cats from the mountains set off on a dangerous journey in search of a new home. . . .
Dawn of the Clans #1: The Sun Trail delivers all the epic adventure and thrilling fantasy that Warriors fans have come to expect. This prequel arc is the perfect introduction for new Warriors readers--and a long-awaited tale of the origins of the Clans that will thrill dedicated Erin Hunter fans!
Also contains an exclusive bonus scene!