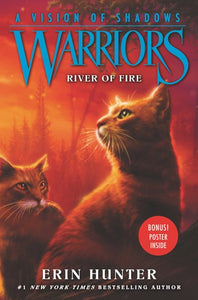 Erin Hunter's #1 bestselling Warriors series continues! Discover more epic adventures in the fifth book in this sixth action-packed story arc. Each hardcover also includes a double-sided jacket with a bonus poster!
The forest is free of Darktail and his vicious rogues, and the long-lost SkyClan has returned to its place among the other four warrior Clans. With StarClan's prophecy fulfilled, many cats believe the danger is past. But after moons of division and strife, ShadowClan is in danger of falling apart forever....
With more than twenty-one million copies sold, the Warriors series has been flying off the shelves for fourteen years and counting. A Vision of Shadows is the perfect introduction for readers new to the Warriors world, while existing fans will be thrilled to return to the days of Bramblestar and ThunderClan, after the events of Omen of the Stars.
Each hardcover in the Vision of Shadows series will also include a double-sided jacket with a bonus poster!