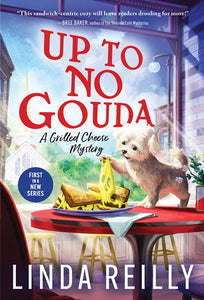 The first in a new cozy series! There's a muenster of a problem in Balsam Dell when a body is discovered at the Grilled Cheese Eatery
Healing from the death of her husband, Carly Hale moved home to Balsam Dell, Vermont, to follow her dream of opening Carly's Grilled Cheese Eatery. Just five months later, business is booming as vacationers and townspeople alike flock to lunch on sandwiches. Except for one—Lyle Bagley, Carly's one-time high school boyfriend and now town bully.
Lyle has just bought the building that houses the Eatery, and he wants Carly out. Before she can even begin to fight his plans, Lyle shows up dead behind her dumpster and now Carly has bigger cheese to grill. In order to save her Eatery, Carly must put her nose to the rind and prove her innocence.