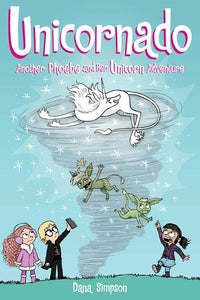 Get ready to experience a whole new thrilling sequence of adventure and discovery in the delightful,

 

New York Times

 

bestselling

 

Phoebe and Her Unicorn

 

series by Dana Simpson.

A new school year means many things for nine-year-old Phoebe Howell and her unicorn best friend, Marigold Heavenly Nostrils. They prepare for a school dance (lame!), meet new friends (ghosts and gnomes and goblins, OH MY!), and even experience a rare supernatural phenomenon called a Unicornado! In fact, sometimes things get almost

 

too

 

magical. Marigold's presence attracts pixies, talking birds, and a sphinx, turning Phoebe's house into a magical sylvan glen. And Marigold even briefly transforms Phoebe into a goblin. Whether they're trick-or-treating, singing showtunes, or casting new spells, every day for Phoebe and Marigold is an adventure thanks to the power of friendship.