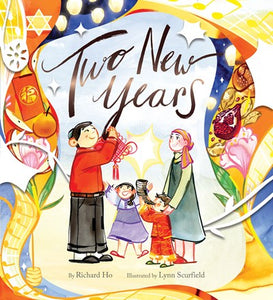 This warm and welcoming New Year celebration invites readers to learn about Rosh Hashanah and Lunar New Year traditions and to reflect on the rich blends of cultures and traditions in their own lives.
For this multicultural family, inspired by the author's own, two New Years mean twice as much to celebrate! In the fall, Rosh Hashanah, the Jewish New Year, offers an opportunity to bake challah, dip apples in honey, and lift voices in song. In the spring, Lunar New Year brings a chance to eat dumplings, watch dragon dances, and release glowing lanterns that light up the sky.
With bright, joyful prose and luminous illustrations, Richard Ho and Lynn Scurfield invite readers of all backgrounds to experience the beauty of two New Year traditions, paying homage to the practices that make each unique while illuminating the values of abundance, family, and hope that they share.
Full of opportunities to reflect on the rich blends of cultures and traditions in our lives, this moving picture book is a beautiful reminder that, at heart, our celebrations might not be so different after all.
TWO BEAUTIFUL NEW YEAR CELEBRATIONS: This book is brimming with opportunities for readers to learn about cultures different from their own—from Jewish readers learning about Lunar New Year, to Chinese readers learning about Rosh Hashanah, to readers from other cultures being invited to experience both!
A WELCOMING READ: This content-rich picture book encourages readers of 
all
backgrounds to reflect more deeply on the blending of traditions in their own families and communities.
A GORGEOUS GIFT: Vibrant illustrations and a lyrical narrative with strong backmatter will make this a treasured gift.
Perfect for:
Parents, grandparents, and caregivers
Teachers, educators, and librarians
Lunar New Year and Rosh Hashanah gift giving
Readers seeking celebrations of different cultures and faiths
Anyone who appreciates beautifully illustrated, multicultural picture books