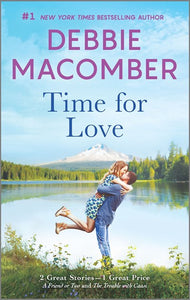 Author: Debbie Macomber
Two women each discover that the heart is what's important
A Friend or Two
Elizabeth Wainwright, an East Coast heiress in disguise, takes a job waitressing at a Fisherman's Wharf café, eager to live a simpler life. One day Andrew Breed--handsome, mysterious and charismatic--walks in. He says he's a longshoreman, but his words and actions don't quite add up. Is Elizabeth falling in love with someone who's pretending to be something other than he claims? Is Andrew?
The Trouble with Caasi
Caasi Crane, CEO of a West Coast hotel chain, has always taken her job seriously--and taken her most important employee for granted. But when Blake Sherrill, her very skillful, and very attractive, general manager resigns, Caasi suddenly realizes she not only needs him, she loves him. So now the question is: How can she convince Blake to stay--in Portland, on the job and, most important, with her?