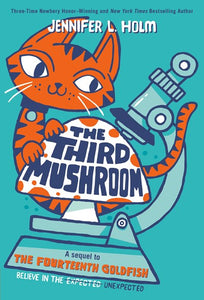 "Believe in the unexpected" with this hilarious, heartwarming, and much-anticipated sequel to the New York Times bestseller The Fourteenth Goldfish!

Ellie's grandpa Melvin is a world-renowned scientist . . . in the body of a fourteen-year-old boy. His feet stink, and he eats everything in the refrigerator--and Ellie is so happy to have him around. Grandpa may not exactly fit in at middle school, but he certainly keeps things interesting. When he and Ellie team up for the county science fair, no one realizes just how groundbreaking their experiment will be. The formula for eternal youth may be within their reach! And when Ellie's cat, Jonas Salk, gets sick, the stakes become even higher. But is the key to eternal life really the key to happiness? Sometimes even the most careful experiments yield unexpected--and wonderful--results.
About the Author
Jennifer L. Holm is a New York Times bestselling children's author and the recipient of three Newbery Honors for her novels Our Only May Amelia, Penny From Heaven, and Turtle in Paradise. Jennifer collaborates with her brother, Matthew Holm, on two graphic novel series—the Eisner Award-winning Babymouse series and the bestselling Squish series. She lives in California with her husband and two children.