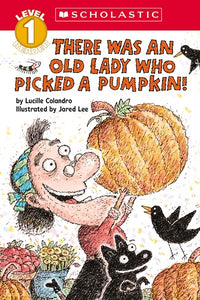 The Old Lady from

 

There Was an Old Lady Who Swallowed a Bat!

 

is back for a fall adventure -- now in a bestselling Level 1 reader format!

The old lady says "Hooray!"

We have a trip today!

Grab your bag. Say hello!

Get on the bus. Off we go!

The Old Lady heads to the farm in this Level 1 story featuring simple sentences, words to sound out, and rhymes just right for the beginning reader! Scholastic Readers encourage the joy and fun of reading with topics that kids love -- perfect for children beginning to read on their own!