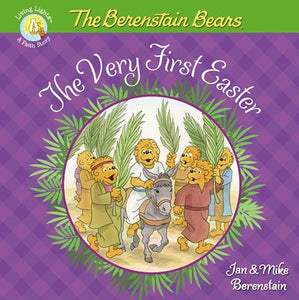 Juvenile Fiction, Paperback
Celebrate Jesus' final days on Earth and His Resurrection in a way only the beloved Berenstain Bears family can. Join Mama, Papa, Brother, Sister, and Honey as they take you down that fond and familiar sunny dirt road, deep in Bear Country to discover the story of the very first Easter.
Featuring the precious artwork that has made The Berenstain Bears a treasured childhood favorite for nearly six decades, see the very first Easter from the heartwarming Berenstain Bear's point of view--from Jesus' entry into Jerusalem to the Last Supper to the risen Lord's first appearance on Easter Sunday.
This holiday must-read is written and hand drawn by Mike Berenstain, the son of the creators of The Berenstain Bears, Stan and Jan Berenstain. It contains all the wholesome and heartfelt lessons you remember ... and that your children will remember too.
What How the Grinch Stole Christmas is to Christmas and It's the Great Pumpkin, Charlie Brown is to Halloween is what this addition to the trusted Living Lights series is to one of the most holy, joy-filled holidays. It's just not Easter until you and your family read The Berenstain Bears The Very First Easter.
The Berenstain Bears The Very First Easter
Is an addition to the popular Zonderkidz Living Lights series of books, perfect for early readers, reading out loud, and sparking important conversations
Continues in the much-loved footsteps of Stan and Jan Berenstain, the creators of the Berenstain Bears series of books that is approaching its 60th Anniversary
Is part of one of the bestselling children's book series ever created, with more than 250 books published and nearly 300 million copies sold to date
Will be read again and again by children ages 4 to 8