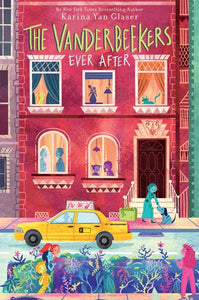 The Vanderbeekers find love and hope in hard times when a family member is diagnosed with leukemia and their community comes together to meet the challenges that follow in the concluding volume of the beloved New York Times bestselling series.
The Vanderbeeker family is celebrating! Two of their favorite people are getting married in Harlem, and Laney, Hyacinth, Oliver, Jessie, and Isa have so much to look forward to—and to organize!
But when one of the siblings becomes seriously ill, wedding plans come to an abrupt halt. Suddenly, instead of preparing for a party, the family is spending their days at the hospital. And soon the Vanderbeekers attempt to help a newly made and critically ill friend, even as they struggle with how their own lives have turned upside down.
In the poignant conclusion to the bestselling Vanderbeekers series, the beloved family faces their biggest challenge yet, rising together to meet it with the characteristic love, warmth, and hope that has won them a lasting home in the hearts of readers everywhere.