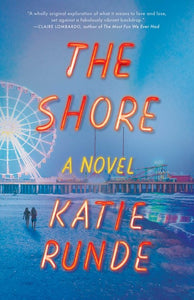 Set over the course of one summer, this perfect beach read follows a mother and her two daughters as they grapple with heartbreak, young love, and the weight of family secrets.
Brian and Margot Dunne live year-round in Seaside, just steps away from the bustling boardwalk, with their daughters Liz and Evy. The Dunnes run a real estate company, making their living by quickly turning over rental houses for tourists. But the family's future becomes even more precarious when Brian develops a brain tumor, transforming into a bizarre, erratic version of himself. Amidst the chaos and new caretaking responsibilities, Liz still seeks out summer adventure and flirting with a guy she should know better than to pursue. Her younger sister Evy works in a candy shop, falls in love with her friend Olivia, and secretly adopts the persona of a middle-aged mom in an online support group, where she discovers her own mother's most vulnerable confessions. Meanwhile, Margot faces an impossible choice driven by grief, impulse, and the ways that small-town life in Seaside has shaped her. Falling apart is not an option, but she can always pack up and leave the beach behind.
The Shore
 is a powerful, heartbreaking, and ultimately uplifting novel infused with humor about young women finding sisterhood, friendship, and love in a time of crisis. This big-hearted family saga examines the grit and hustle of running a small business in a tourist town, the ways we connect with strangers when our families can't give us everything we need, and the comfort to be found in embracing the pleasures of youth while coping with unimaginable loss.