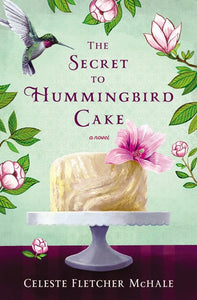 "The Secret to Hummingbird Cake

 

celebrates strong women and stronger ties. Its humor, poignancy, and a dash of sass will touch the heart."*
In the South you always say "yes, ma'am" and "no, ma'am." You know everybody's business. Football is a lifestyle not a pastime. Food--especially dessert-- is almost a religious experience. And you protect your friends as fiercely as you protect your family-- even if the threat is something you cannot see.
In this spot-on Southern novel brimming with wit and authenticity, Laine, Carrigan, Ella Rae first met on the playground when they were five years old. Now, as adults, they're still almost inseparable as they life together: from the sometimes rocky path of marriage to the outrageous curveballs that life sometimes throws--from devastating pain to absolute joy. Through it all, you'll experience the essence and the joy of true friendship. And if you're lucky, you just may discover the secret to hummingbird cake along the way.
*CBA Reviews
"A delightful, heartwarming, and heart wrenching story that captures the beauty and essence of living in a small, southern town. A must read for ALL girls, 18 to 80." --Ladies Southern Lit Society
"McHale's magnificently penned novel is a story which demonstrates the power of genuine female friendships. The writing is sharp, fresh, and delivered to the reader with finesse and humor . . . a remarkable debut novel that is a must read for all who sincerely believe true friendship is a gift to be treasured." --MK Torrance, Goodreads Master Reviewer
"The book starts out as chick lit but then takes a sharp turn on the genre and gives us something much more . . . a real look at the kind of remarkable female friendships that so many of us experience in real life but few books ever capture. I laughed and I wept, and readers will too. Wow." --Linda Stasi, Columnist New York Daily News, author of The Sixth Station as well as six nonfiction books, TV Commentator for NY1, (What A Week)
"McHale's debut novel is such an amazing surprise. Just when you think you've heard this song before, the music changes. It will make you laugh out loud and make you cry and stay with you long after the read is done. All in all, a brilliant raw look at life." --Melissa Grego, Editor-In-Chief at Broadcasting & Cable
"Highly recommend this book to bookclubs everywhere. In a world where fake friendship is celebrated, it was most refreshing to read a story that defines what true friendship really is." --The Dallas Dozen Bookclub
"Finally! A REAL story about REAL friendship! Get the tissues ready . . . for the happy tears and sad ones too." --GrantJunior League
Full length, standalone novel
Women's fiction, focused on friendship, and set in the South
Includes discussion questions for book clubs