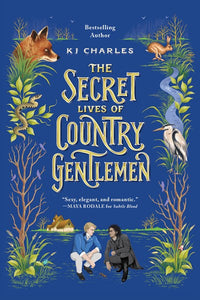 Bridgerton meets Poldark in this sweeping LGBTQIA+ Regency romance from award-winning author KJ Charles
Abandoned by his father as a small child, Sir Gareth Inglis has grown up prickly, cold, and well-used to disappointment. Even so, he longs for a connection, falling headfirst into a passionate anonymous affair that's over almost as quickly as it began. Bitter at the sudden rejection, Gareth has little time to lick his wounds: his father has died, leaving him the family title, a rambling manor on the remote Romney Marsh…and the den of cutthroats and thieves that make its intricate waterways their home.
Joss Doomsday has run the Doomsday smuggling clan since he was a boy. His family is his life…which is why when the all-too-familiar new baronet testifies against Joss's sister for a hanging offense, Joss acts fast, blackmailing Gareth with the secret of their relationship to force him to recant. Their reunion is anything but happy and the path forward everything but smooth, yet after the dust settles, neither can stay away. It's a long road from there—full of danger and mysteries to be solved—yet somehow, along the way, this well-mannered gentleman may at last find true love with the least likely of scoundrels.