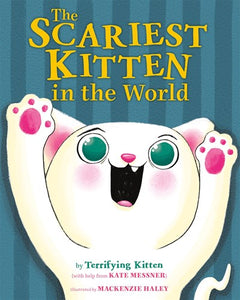 From 
New York Times
–bestselling author Kate Messner comes a hilarious picture book in the vein of 
The Monster at the End of This Book
 about a not-so-scary kitten and a not-too-terrifying haunted house.
WARNING! This is a VERY scary story. It is the most spine-chilling story anyone has ever read. It takes place in a horrifying haunted house (okay, not that terrifying) . . . with a creepy creature (well, maybe not that creepy) . . . and its frightening friends (but are they that frightening?). Seriously. Kids are going to be scared right out of their underpants by these guys! There's no way they're the cutest little critters anyone has ever seen . . . right?

The Scariest Kitten in the World is a great read aloud all year long, but especially during Halloween. Packed with humor and heart, with laugh-out-loud illustrations, this not-quite-scary story will keep readers laughing until the very last page.