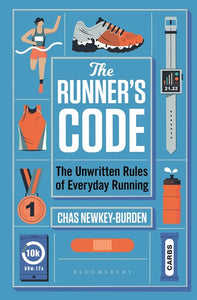 Cracking... full of running gems, realities and giggles. Nice work!' - Martin Yelling, Marathon Talk
'Lovely - very impressive'
- TalkSPORT
'From now on, if anyone I know mentions that they want to start running, this will be my first recommendation'
 - Stuart Heritage
The Runner's Code
explores the unwritten rules of everyday running and is essential reading for
anyone who marvels at marathons, tears round
the track or simply plods round the park.
Filled with 
smart advice
 and 
brilliantly knowing humour
, this unique celebration of running takes the newbie and veteran alike through the secret, nuanced and blindingly obvious rules of running to answer all the important questions, such as:
- What's the correct etiquette for acknowledging other runners?
- What should you do if you get 'caught short' on a run?
- And exactly how many times can you ask colleagues for marathon sponsorship?
The book is packed with plenty of need-to-know information to help you deliver your best running performance, such as coping with different weather conditions, advice on kit and clothing (how many miles can a pair of trainers last, and is it ever appropriate to run in a mankini?) and pavement etiquette (overtaking dawdling pedestrians on a busy street).
There are also sections on getting the best race-day nutrition, finding the perfect running headspace and gaining maximum joy from your running.
The Runner's Code
 features exclusive contributions from BBC presenters 
Nicky Campbell
 and 
Louise Minchin
, sports writer 
Henry Winter
, and leading running authors 
Anna McNuff, Paul Tonkinson,
Rachel Cullen, Martin Yelling, Liz Yelling, Helen Croydon
and 
Michael Stocks.
They each brilliantly reveal what they love and what they hate about running.
Written by journalist, author and self-confessed running nut Chas Newkey-Burden, 
The Runner's Code
 will help us to all run better and more responsibly, while reminding us of the joy and, at times, the wonderful absurdity of running.