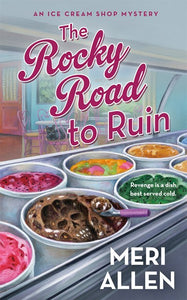 The first in a refreshingly delicious new cozy series set in an ice cream shop!
Riley Rhodes, travel food blogger and librarian at the CIA, returns to her childhood home of Penniman, Connecticut – land of dairy farms and covered bridges – to attend the funeral of her best friend Caroline's mother and owner of the beloved Udderly Delicious Ice Cream Shop. Despite the melancholy circumstances, it's a bittersweet first day home filled with reunions with old friends, a walk around her father's cozy bookshop on the green, and late night conversations with Caroline. And, of course, long and joyful hours spent behind the counter serving delicious ice cream to the masses. It feels like a time to help a friend rebuild, and maybe for Riley to do a bit of reflecting herself after a botched mission in Italy. After all, it's always good to be home.

But Caroline and her brother Mike now have to decide what to do with the assets they've inherited – the ice cream shop as well as farm they grew up on – and they've never seen eye to eye. When Mike turns up dead in the barn the morning after the funeral, the peace and quiet of Penniman seems upended for good. Having ended up in the middle of it in more ways than one, Riley quickly sets to work on finding the killer, all while sharing famous scoops and settling into a life she never knew she was missing.