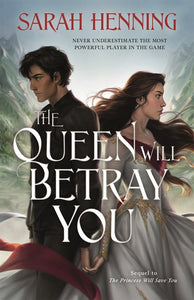 KEEP YOUR EYE ON THE CROWN...

After a thousand years of political stability, the realm of The Sand and Sky is up for grabs. Four kingdoms, four rulers vying for the ultimate prize, sovereignty over the entire continent: A ruthless old king spinning webs, whose schemes encompass generations. A widowed queen whose only credo is all kings must die. A runaway queen whose unexpected return upends everyone's plans. And a prince-in-waiting determined to wait no more.
Standing against them are a dispossessed princess and her stableboy love with a surprising claim of his own. Their only hope in the face of unspeakable betrayals, enemies hidden in the shadows, and insurmountable odds is the power of true love...
The Kingdoms of Sand & Sky Trilogy
Book 1: The Princess Will Save You
Book 2: The Queen Will Betray You
Book 3: The King Will Kill You (forthcoming)
Praise for The Princess Will Save You
"Everything we love about YA fantasy, complete with first love, sweeping adventure, and a fierce heroine who holds her own. There's something for everyone in this book."--Adrienne Young, New York Times bestselling author of The Sky in the Deep

"An action-packed adventure with a fierce heroine that is sure to enthrall! Sarah Henning has created a fantasy narrative that weaves together love and betrayal, pirates and swordplay. Sure to please anyone who grew up loving tales of princesses."--Emily Lloyd-Jones, author of The Bone Houses
"Full of inconceivable wit, daring adventure, and cunning political machinations...It's as if Sarah Henning looked into my soul that yearned for a book like The Princess Bride and said--as you wish. And yes, this is a kissing book."--Ashley Poston, author of Heart of Iron

"A breakneck fantasy adventure.... Swoony romance, sword fights, a great cast of characters and some clever parallels to a story about another princess who won't be made a bride makes The Princess Will Save You a strong contender for my favorite novel of the year."--Emily Hall Schroen, Main Street Books, St. Charles, Missouri