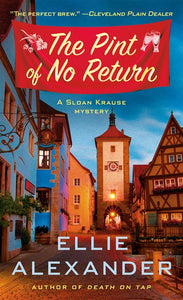 Amateur sleuth Sloan Krause returns in another delightful cozy — investigating a star who's murdered while filming
No other festival compares to Oktoberfest in Leavenworth, Washington. The town is buzzing with excitement, but local brewmaster Sloan Krause is tapped out. Between managing the pub, her pending divorce, and mounting feelings for Garrett, she's fermenting in internal turmoil.

To complicate matters, a documentary—Wish You Were Beer—and beg Sloan to be on camera. She'd rather not, but it's great publicity for her brewery Nitro. The only problem is the documentary's host, Mitchell Morgan whose antics put everyone on edge. Then, Sloan discovers Mitchell sprawled out in front of an Oktoberfest tent with a smashed growler of Nitro's Cherry Weizen. Did Mitchell have one pint too many, or has he been murdered with microbrew?