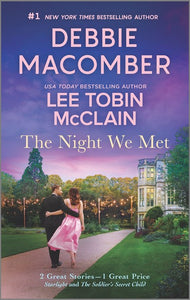 Fiction, Romance, Mass Market Paperback
Life can change on the night love finds you...
Starlight by Debbie Macomber

Rand Prescott believes that his chances for happiness are limited because he's going blind. But when he meets Karen McAlister one magical starlit night, he begins to imagine a different future--one filled with love. Karen already knows she wants to be with him for the rest of her life. But Rand refuses to consider marriage; he refuses to bind her to a man who can't see. Brokenhearted, Karen is prepared to walk away, but can Rand really let her go?
The Soldier's Secret Child by Lee Tobin McClain
Former soldier Vito D'Angelo has come home with a foster son--and a secret that could devastate his comrade's lovely widow. Lacey McPherson is Vito's childhood friend and the last person he wants to hurt. But as their friendship turns to more, the truth grows harder to reveal. Lacey's trying to renovate her guesthouse and build a peaceful single life. Yet letting ruggedly handsome Vito and young Charlie stay on her property awakens a longing for the family she's sure she'll never have. But it may open the door to a loving future...if the onetime boy next door proves to be just the man she needs...