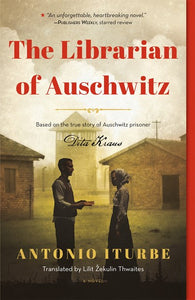 Fiction, Paperback
Based on the experience of real-life Auschwitz prisoner Dita Kraus, the award-winning The Librarian of Auschwitz by Antonio Iturbe is the incredible story of a girl who risked her life to keep the magic of books alive during the Holocaust. This edition includes a Q&A with Dita Kraus and discussion questions.
As a young girl, Dita is imprisoned by the Nazis at Auschwitz. Taken from her home in Prague in 1939, Dita does her best to adjust to the constant terror of her new reality. But even amidst horror, human strength and ingenuity persevere. When Jewish leader Fredy Hirsch entrusts Dita with eight precious volumes the prisoners have managed to sneak into the camp, She embraces the responsibility--and so becomes the librarian of Auschwitz.
From one of the darkest chapters in history comes this extraordinary story of courage and hope.