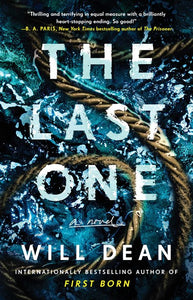 An unputdownable locked-room thriller about family, trust, and survival from the acclaimed author of the "utterly thrilling" (Lisa Jewell, #1 New York Times bestselling author)

 

First Born.

When Caz steps onboard the exclusive cruise liner RMS 

Atlantica

, it's the start of a vacation of a lifetime with her new love, Pete. On their first night they explore the ship, eat, dance, make friends, but when Caz wakes the next morning, Pete is missing.

And when she walks out into the corridor, all the cabin doors are open. To her horror, she soon realizes that the ship is completely empty. No passengers, no crew, nobody but her. The 

Atlantica

 is steaming into the mid-Atlantic and Caz is the only person on board. But that's just the beginning of the terrifying journey she finds herself trapped on in this white-knuckled mystery.