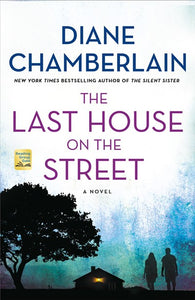 A community's past sins rise to the surface in

 

New York Times

 

bestselling author Diane Chamberlain's

 

The Last House on the Street.

1965
Growing up in the well-to-do town of Round Hill, North Carolina, Ellie Hockley was raised to be a certain type of proper Southern lady. Enrolled in college and all but engaged to a bank manager, Ellie isn't as committed to her expected future as her family believes. As Ellie follows her ideals fighting for the civil rights of the marginalized by volunteering to help register Black voters, her scandalized parents scorn her efforts, and her neighbors reveal their prejudices. And when she loses her heart to a fellow volunteer, Ellie discovers the frightening true nature of the people living in Round Hill.

2010
Architect Kayla Carter and her husband designed a beautiful house for themselves in Round Hill's new development, Shadow Ridge Estates. It was supposed to be a home where they could raise their daughter and grow old together. Instead, it's where Kayla's husband died in an accident—a fact known to a mysterious woman who warns Kayla against moving in. The woods behind the property are reputed to be haunted, and the new house has been targeted by vandals leaving threatening notes. And Kayla's neighbor Ellie Hockley is harboring long buried secrets about the dark history of the land where her house was built.

Two women. Two stories. Both on a collision course with the truth in Diane Chamberlain's riveting, powerful novel about the search for justice.