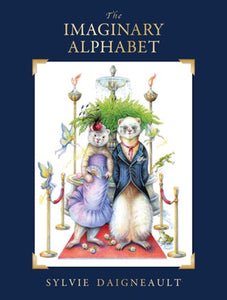 Discover Sylvie Daigneault'sfantastical alphabet art world, a game of discovery, and more.
Step inside the deliciously detailed pages of Sylvie Daigneault's The Imaginary Alphabet. You never know what you might discover!
Agile alligators attempting an arabesque are just the beginning of this alphabetical adventure. Keep your eyes sharp and you might just spot the accordion, apple trees, and acorns hiding in the art. When you've read about the sleepy sloths swinging by the sea, stick around to spy the sailboat, snorkel, and sandals too.
In The Imaginary Alphabet, whimsical art brings the alphabet to life. Keen-eyed readers and listeners of all ages will enjoy finding everything there is to discover in each fantastical scene. Do you think you found it all? The book ends with a long list of every hidden detail.
Bookended by endpapers adorned with each jewellike illustrated letter, The Imaginary Alphabet is a mesmerizing book for word-lovers and art and animal enthusiasts everywhere.