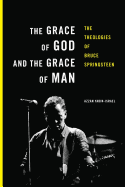 Pop Culture, Paperback
Bruce Springsteen's words and music have been part of the American landscape for nearly half a century, and are today cherished by millions worldwide. Indeed, Springsteen has been known to inspire religious devotion among his fans, and his shows with the E Street Band are often compared to a revivalist congregation. However, there has not been a comprehensive scholarly study of the biblical and theological motifs in Springsteen's lyrics.
Until now.
Reading Springsteen's songs as one would a poem, The Grace of God and the Grace of Man sheds new light on Springsteen's work. The book's first section examines the theological overtones of Springsteen's early albums, focusing on his critique of traditional religious institutions and the promise of this-worldly salvation through romantic love and the open road. This trajectory in Springsteen's writing reaches an exhilarating apex in Born to Run, only to be methodically dismantled in the subsequent Darkness on the Edge of Town. The second section of the book examines the ways in which Springsteen reworks three traditional terms in his work after Darkness on the Edge of Town: sin, grace, and the struggle within. Drawing on songs from across Springsteen's later work, the book demonstrates that Springsteen consistently situates these terms in the lived struggle to overcome the forces that pull us away from our better selves. Sin is the surrender to these forces, and grace the blessings that come from overcoming them; both result from the struggle within. The third and final section, "Springsteen's Midrash," examines songs that explicitly interpret biblical passages, including "Into the Fire," "Adam Raised a Cain," and the hauntingly beautiful "Jesus Was an Only Son." The Grace of God and the Grace of Man's close readings of Springsteen's songs provide a wealth of local insights as well as a new critical framework for the appreciation of this major American artist.