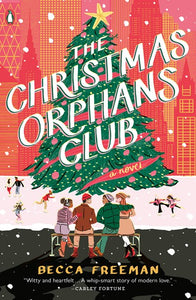 From bookfluencer and host of the BAD ON PAPER podcast, a riotous holiday rom-com about four friends in NYC who hold onto their unconventional Christmas tradition even when their paths diverge—but the changes they fear might be exactly what they need…
Hannah and Finn have spent every Christmas together since college. Neither has anywhere else to go—Hannah's parents died, and Finn's disowned him when he came out. Their tradition of offbeat holiday adventures only grows more outrageous with time. When the pair starts their adult lives in New York City, they add stylish Priya and mysterious Theo to the group, solidifying a found family and sense of belonging they've always craved.
But now, when Finn announces a move to L.A., this Christmas may be their last. Hannah is terrified of losing the family she's built for herself, even as her boyfriend nudges her toward commitment. Meanwhile, Finn struggles with the things he's about to leave behind—namely, his unexpressed feelings for Theo. Does growing up mean growing apart? This Christmas the changes these friends fear may be exactly what they need. . . .