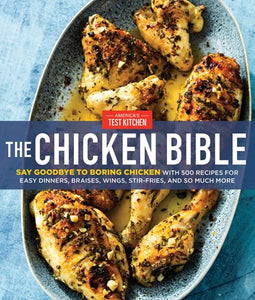 Poultry enthusiasts unite!
ATK has you covered from the basic to the spectacular with 500 recipes that deliver low-key dinners, game-day favorites, simple sandwiches, special-occasion showstoppers, and beyond.
You can call chicken a lot of things. Blank canvas, weeknight go-to, lean protein, we've heard it all. But boring? That's where we draw the line. Sure, it might have started to feel a bit redundant. But that's not the chicken's fault. ATK is here with the inspiration you need. It's time those chicken pieces in your freezer got the respect they deserve.
Chicken is the go-anywhere, eat-with-anything, highly transformable crowd favorite that always fills the bill. Find exactly what you're looking for (and more!) with a wide breadth of themed chapters, including Easy Dinners, Classic Braises, Breaded and Fried, Pasta and Noodles, Savory Pies and Casseroles, and appliance-specific recipes. There's even a dedicated chapter of recipes for cooking for two. And with an introduction detailing how to prep any chicken part, from pounding breasts and preparing cutlets, to whole bird skills like butterflying or breaking down a chicken, you'll be a poultry pro in no time. Cozy up to succulent roast chickens with sauces made from pan drippings, sink your teeth into the crispiest, crunchiest fried chicken you've ever had, try your hand at sous vide for unbelievably moist chicken, or fire up the grill for anything from kebabs to beer can chicken. Feel like wingin' it? Us too. Our favorite is our game-changing Korean Fried Chicken Wings, double-fried so they stay extra-crispy under their blanket of spicy, salty, slightly-sweet sauce. With over 500 recipes, you could eat chicken every night and never tire of it. (And yes, that's a challenge.)