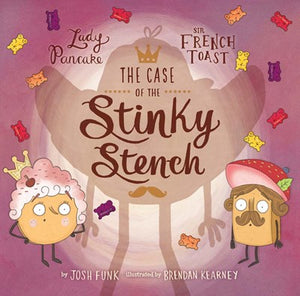 In the second adventure of the Lady Pancake and Sir French Toast series, our delectable rhyming friends are ready to solve a smelly mystery--perfect for fans of The Food Group series.
Sir French Toast's nephew, Inspector Croissant, begs him and Lady Pancake for help in finding the source of the foul odor threatening to destroy the fridge. What 
could
 it be? Is it the devious Baron von Waffle? A fetid fish lurking in the bottom of Corn Chowder Lake? It's up to Lady Pancake and Sir French Toast to get to the bottom of this case!
Praise for the Lady Pancake and Sir French Toast Series:
"[R]eaders will giggle their way through this refrigerated fantasyland."--Publishers Weekly
"A must purchase."--School Library Journal, starred review
Don't miss the other books in the series:Lady Pancake & Sir French ToastMission DefrostableShort & SweetThe Great Caper Caper