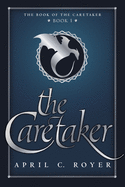 The youngest Caretaker to ever serve the dragons of Chemerie is now their last hope for survival.
Morgan devotes herself to wielding her magic with skill while navigating a new life of duty, propriety, and selfless love. Once she embraces the powerful link to her magical mate, their love makes him her greatest weakness.
When an evil warlord brings dark magic and a vicious dragon army against her family, sword and might alone will not save them. To survive, her brethren must trust her to stand between them and the darkness.
If she fails, her dragon brethren will be enslaved, her family murdered, and her country will fall.
The Caretaker is the first in April C. Royer's young-adult fantasy romance series, The Book of the Caretaker. If you enjoy epic adventure full of endearing characters, fast-paced action, tender romance, and a strong female protagonist, this series is for you.
Launch yourself into this captivating fantasy series today!