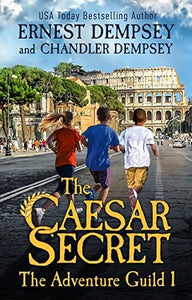 Juvenile Fiction, Paperback
Brother and sister Diego and Corin Townsend are on the trip of a lifetime: two weeks in Rome with their new best friend, Desmond, and his treasure hunter parents to open their new exhibition. All expenses paid. Insider access to all the museums and monuments the kids have long dreamed of exploring.
But their plan to dig into history's mysteries in one of the world's great ancient cities quickly turns dangerous when the kids discover a hidden treasure map dating back to the time of Julius Caesar. But is the map real? Does it point to actual buried treasure?
Well, some wicked, greedy men bent on money and fame think so. And they'll stop at nothing to steal that map and the loot it hides—and they're not about to let three scheming kids stop them.
To avoid the bad guys and safeguard their find, Diego, Corin, and Desmond will have to rely on their knowledge of the Roman Empire, on their bravery, and on each other.
Best-selling author Ernest Dempsey offers up his latest tour de force with the first book of the Adventure Guild, the start of a globetrotting whirlwind featuring three of the smartest, most fearless kids you've ever met.