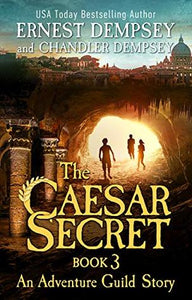 Juvenile Fiction, Paperback
It was supposed to be a vacation.
But soon after Desmond and his two friends, Corin and Diego, start exploring the museums and ancient ruins of Rome, fate, it seems, intervenes.
Almost by accident, the kids find a hidden map that appears to lead to a heretofore unknown treasure—hidden long ago by none other than Julius Caesar himself, one of the most powerful emperors in all of recorded human history.
But finding the hidden treasure proves to be just as difficult and inscrutable as Caesar himself, and unfortunately their hunt attracts a heap of unwanted attention from some seedy underworld characters.
No matter their strategy, the kids can't manage to shake antiquities hustler Wayne Collins and his sidekick, the malevolently dense Carl, who've caught wind of the kids' quest and want these unfathomable riches for themselves—along with all the fame that comes with unearthing a treasure that's been buried for two thousand years.
But when the kids find themselves trapped in an underground labyrinth with Wayne and Carl, new strategies must be devised if they're all going to survive the ordeal and finally learn the answer to Caesar's Secret.
In this thrilling conclusion, USA Today best-selling author Ernest Dempsey clinches the finish on the first quest of the Adventure Guild. In his trademark, rapid-fire storytelling, Dempsey pushes readers through a heart-stopping race against time to find a treasure for all time.