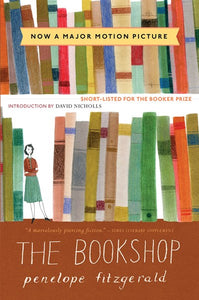 NOW A MAJOR MOTION PICTURE STARRING EMILY MORTIMER, BILL NIGHY, AND PATRICIA CLARKSON

Short-listed for the Booker Prize
"A beautiful book, a perfect little gem." —BBC

 

Kaleidoscope
"A marvelously piercing fiction." —Times Literary Supplement

In 1959 Florence Green, a kindhearted widow with a small inheritance, risks everything to open a bookshop—the only bookshop—in the seaside town of Hardborough. By making a success of a business so impractical, she invites the hostility of the town's less prosperous shopkeepers. By daring to enlarge her neighbors' lives, she crosses Mrs. Gamart, the local arts doyenne. Florence's warehouse leaks, her cellar seeps, and the shop is apparently haunted. Only too late does she begin to suspect the truth: a town that lacks a bookshop isn't always a town that wants one.

This new edition features an introduction by David Nicholls, author of

 

One Day

.