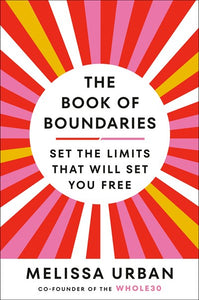 End resentment, burnout, and anxiety--and reclaim your time, energy, health, and relationships. As the co-founder of the Whole30, Melissa Urban helped millions of people transform their relationship with food. Now, in this powerful and practical guide to setting boundaries, she shows you how to prioritize your needs and revolutionize your relationships.

 

"Melissa Urban shows the way forward with clarity, vulnerability, and humor."--Gretchen Rubin,

 

New York Times

 

bestselling author of

 

The Happiness Project

 

and

 

The Four Tendencies

 

Do your relationships often feel one-sided or unbalanced? Are you always giving in just so things will go smoothly? Do you wish you could learn to say no--but, like, nicely? Are you depleted, overwhelmed, and tired of putting everyone else's needs ahead of your own? If you answered yes to any of these questions, you need to establish some boundaries.

 

Since launching the mega-bestselling wellness program the Whole30, Melissa Urban has taught millions of people how to establish healthy habits and successfully navigate pushback and peer pressure. She knows firsthand that boundaries--clear limits you set to protect your energy, time, and health--are the key to feelings of security, confidence, and freedom in every area of your life.

 

Now, in 

The Book of Boundaries,

 

she shows you how boundaries are the key to better mental health, increased energy, improved productivity, and more fulfilling relationships.

 

In her famously direct and compassionate style, Urban offers:

 

- 130+ scripts with language you can use to instantly establish boundaries with bosses and co-workers, romantic partners, parents and in-laws, co-parents, friends, family, neighbors, strangers--and yourself

- actionable advice to help you communicate your needs with clarity and compassion

- tips for successfully navigating boundary guilt, pushback, pressure, and oversteps

- techniques to create healthy habits around food, drink, technology, and more

 

User-friendly and approachable, 

The Book of Boundaries

 will give you the tools you need to stop justifying, minimizing, and apologizing, leading you to more rewarding relationships and a life that feels bigger, healthier, and freer.