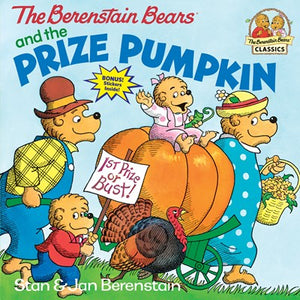 Join the Berenstain Bears as they celebrate Thanksgiving and count their blessings. Makes a perfect gift with over 50 bonus fall-themed stickers!
This Berenstain Bears story is a perfect way to teach children about what they should truly be thankful for. Come for a visit in Bear Country with this classic from Stan and Jan Berenstain. It's November, and the Bear family are entering the Thanksgiving Festival's Big Pumpkin Contest. Will winning be the only thing that matters, or will the Bear family learn about the true meaning of Thanksgiving?
Continue to celebrate the true meaning of the seasons with more heartwarming holiday books from the Berenstain Bears--
perfectly giftable with bonus stickers and more!