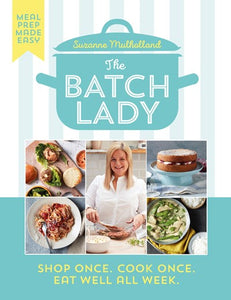 An international bestseller!
Save time and money and eliminate food waste with this charming and practical handbook from online sensation the Batch Lady, who teaches home cooks how to master meal prep and planning to create tasty meals the whole family will love.

Today's home cooks want meals that are easy and delicious and use seasonal ingredients. But our overstretched, hectic lives make cooking from scratch every day difficult. Suzanne Mulholland--a time management expert known to the world as the Batch Lady--understands the challenges that limit our hours in the kitchen. In this warm, funny, practical cookbook, she shares her life-changing recipes and techniques to help home cooks create fresh, delicious meals that add taste and variety without breaking the bank. The secret: batch cooking that emphasizes planning and preparation.
In her delightful Scottish voice, Suzanne shows you how to prepare different dishes using similar base ingredients in one big batch--optimizing shopping, prep, and clean-up time while maximizing storage space and reducing waste. Her recipes are simple, short, and yummy and accommodate a variety of tastes and dietary restrictions. With considerations for portion control, budget, and family size, her methods and techniques can be adapted to suit any kind of lifestyle or personal needs.
The Batch Lady offers time-efficient, strategies and recipes such as Paired Meals, including Massaman Curry + Moroccan Lamb Chops, Spaghetti Bolognese + Chili, and Vegetarian Tagine + Spicy Bean Burgers, and other tasty fare. She also teaches you how to create 10 meals in an hour, whipping up different dishes at the same time that use similar base ingredients such as:
Vegetarian--Stuffed Sweet Potatoes with Coriander and Feta; Mediterranean Casserole; Bean Burgers; Butternut Squash and Chickpea Tagine; Sweet Potato and Spinach Curry
Chicken--Chicken Balti; Enchiladas; Bride's Chicken; Mozzarella Hasselback Chicken; Hunter's Chicken
Best of all, mastering the methods and recipes in The Batch Lady will help you feel in control and empowered in the kitchen, no matter how busy your day. A cooking lifestyle "hack" packed with fresh, tasty food and illustrated with dozens of inspiring color photographs, The Batch Lady will revolutionize how you cook today--and every day.