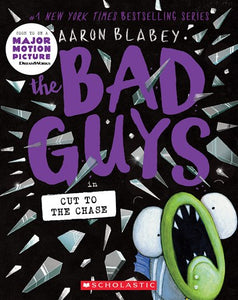 SOON TO BE A MAJOR MOTION PICTURE!
I wish I'd had these books as a kid. Hilarious! -- Dav Pilkey, creator of Captain Underpants and Dog Man
They may look like Bad Guys, but these wannabe heroes are doing good deeds... whether you like it or not in this New York Times bestselling illustrated series.
A MYSTERIOUS DOORWAY! (Sure, it's in the grossest restaurant in the world, but that doesn't make it any less mysterious. OK?) Behold! What lies beyond?! An evil centipede? An alternate universe? A few decent explanations? VRRRING! NING! NING! NING!
Hey, was that a CHAINSAW?! Let's see if you can read and run at the same time... GO! It's the Bad Guys' next adventure!