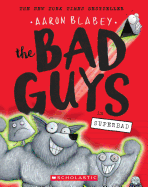 Graphic Novel, Series (The Bad Guys #8), Paperback
"I wish I'd had these books as a kid. Hilarious!" -- Dav Pilkey, creator of Captain Underpants and Dog Man

They may look like Bad Guys, but these wannabe heroes are doing good deeds...whether you like it or not! This New York Times bestselling illustrated series is perfect for fans of Dog Man and Captain Underpants.
The Bad Guys have strangely acquired SUPERPOWERS! But their powers might be, well, defective. They can only do things like blow their own pants off in public. Not exactly what you'd call hero-caliber skills.
Defective or not, the Bad Guys have a job to do. With Dr. Marmalade ready to destroy the world, Mr. Wolf, Mr. Snake, Mr. Piranha, and Mr. Shark finally have their chance to be (super)heroes! And this time, they may just get some help...