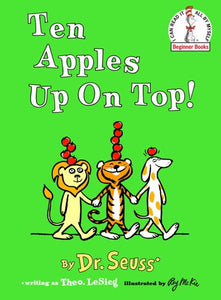 Count your way through this silly stacking adventure with Dr. Seuss!
Don't let the apples drop! Three animal friends practice balancing apples on their heads in this hilarious introduction to counting, illustrated by Roy Mckie. The sturdy board book teaches all about numbers, with a dose of signature Seuss charm. Kids will learn to count to ten--and want to start all over again!
Originally created by Dr. Seuss himself, Beginner Books are fun, funny, and easy to read. These unjacketed hardcover early readers encourage children to read all on their own, using simple words and illustrations. Smaller than the classic large format Seuss picture books like The Lorax and Oh, The Places You'll Go!, these portable packages are perfect for practicing readers ages 3-7, and lucky parents too!
"Pretty much all the stuff you need to know is in Dr. Seuss." - President Barack Obama