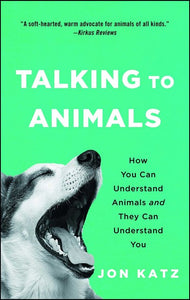 New York Times bestselling author Jon Katz--"a Thoreau for modern times" ( San Antonio Express-News)--offers us a deeper understanding of the inner lives of animals and teaches us how we can more effectively communicate with them, made real by his own remarkable experiences with a wide array of creatures great and small.
In Talking to Animals, journalist Jon Katz--who left his Manhattan life behind two decades ago for life on a farm where he is surrounded by dogs, cats, sheep, horses, cows, goats, and chickens--marshals his experience to offer us a deeper insight into animals and the tools needed for effectively communicating with them.
Devoting each chapter to a specific animal from his life, Katz tells funny and illuminating stories about his profound experiences with them, showing us how healthy engagement with animals falls into five key areas: Food, Movement, Visualization, Language, and Instincts. Along the way, we meet Simon the donkey who arrives at Katz's farm near death and now serves as his Tai Chi partner. We meet Red the dog who started out antisocial and untrained and is now a therapy dog working with veterans from Iraq and Afghanistan. And we meet Winston, the dignified and brave rooster who was injured defending his hens from a hawk and who has better interpersonal skills than most humans.
Thoughtful and intelligent, lively and powerful, this book will completely change the way you think about and interact with animals. Katz's "honest, straightforward, and sometimes searing prose will speak to those who love animals, and might well convert some who do not" ( Booklist).