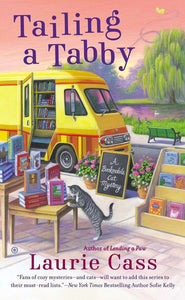 In the bookmobile, librarian Minnie Hamilton and her rescue cat, Eddie, roll out great summer reads to folks all over the lake town of Chilson, Michigan. And when real-life drama turns deadly, Minnie makes sure justice is never overdue.
 
The bookmobile is making its usual rounds when Minnie and Eddie are flagged down by a woman in distress. The woman's husband, a famous artist, needs emergency medical care. After getting him into the bookmobile, Minnie races the man to the hospital in time…but his bad luck has only just begun.
 
After disappearing from the hospital, the artist is discovered slumped over the body of a murdered woman. Minnie knows that her new friend didn't commit the crime, but the evidence paints an unflattering picture. Now this librarian and her furry friend have to put the investigation in high gear and catch the real killer before someone else checks out.