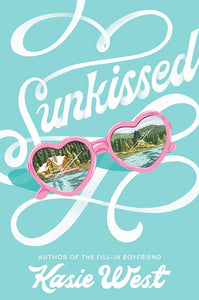 A lighthearted and swoony contemporary YA romance by fan-favorite author Kasie West about a girl who finds that a summer spent at a family resort isn't as bad as she imagined . . . and that falling in love is filled with heartache, laughter, and surprises!
Avery has always used music as an escape. But after her best friend betrays her, even her perfectly curated playlists can't help her forget what happened. To make matters worse, her parents have dragged her and her social-media-obsessed sister to a remote family camp for two months of fun. Just when Avery is ready to give up on the summer altogether, she meets Brooks--mysterious, frustratingly charming Brooks--who just happens to be on staff--which means he's off-limits.
What starts as a disaster turns into. . . something else. As the outside world falls away, Avery embarks on a journey of self-discovery. And when Brooks offers her the chance of a lifetime, she must figure out how far is she willing to go to find out what she wants and who she wants to be.
Fan favorite Kasie West is back with another unforgettable summer romance that reminds us falling in love is full of wonder, heartache, and--most of all--surprises.