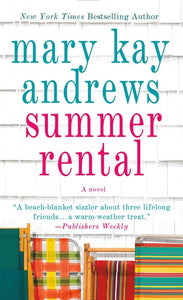 Mary Kay Andrews's New York Times bestseller, Summer Rental, is a warm and humorous novel of four women, a month at the beach, and the healing power of friendship and second chances.

When you need to make a change in life
Ellis, Julia, and Dorie. Best friends since Catholic grade school, they now find themselves in their mid-thirties, at the crossroads of life and love. Ellis, recently fired from her job, begins to question the choices she's made over the past decade. Julia has a man who loves her and is offering her the world, but she can no longer hide her deepest insecurities. And Dorie has just been shockingly betrayed by the man she loved and trusted the most. Can a one-month getaway to North Carolina's Outer Banks help make things right?
Sometimes the tide just pulls you in the right direction...

The landlord of the ladies' beach house is Ty Bazemore, who's hanging on to the property by a thread--even as he finds himself spiraling into a deep attraction with Ellis. Then there's Maryn Shackleford, a stranger who arrives on the scene in search of a good hiding place and a new identity. Can Ellis, Julia, and Dorie provide what Maryn is looking for? Five people on a journey that will uncover their secrets and point them on the path to renewal and forgiveness. One summer rental that might be what each of them has needed all along...