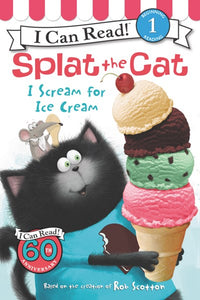 Beginning readers will learn the -eam/-eme word family while Splat, one of this age group's best-loved characters, gets the sweet treat of his dreams!
Splat can't believe his good luck when his class takes a field trip to the ice cream factory. He could eat SO MANY ice cream cones! But when he bumps into an important lever, the whole class ends up with more ice cream than they can handle! It's an ooey-gooey mess at the ice cream factory, but Splat soon discovers that a hard-earned treat is the tastiest of all.
Beginning readers will devour this delicious Level One I Can Read tale starring their favorite excitable cat, Splat!