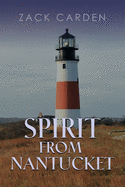 Dr. and Mrs. Stanford Smythe lived in Ooltewah, TN. He was a general dentist in that bucolic suburb of Chattanooga. They bought a beautiful antique wardrobe at an auction to use as a layette for the baby's things after his birth. But when they cleaned it up a ghost was liberated. The ghost killed their son after he was brought home from the hospital.
They were arrested and sentenced to a mental institution. And in order to be released, they had to prove that they were innocent.
Through their attorney, Marshall Garrick, they hired a Private Investigator, Sam Shamantic. But he had baggage of his own. He tried everything from exorcism to Jamaican Voodo to rid himself of the nightmares that haunted him every night. His boy had been lost (in utero) in the airliner crash that also took his wife in Dallas.
Meanwhile, a young lady who had graduated from Harvard sought a respite at her father's home on Nantucket at Sankaty Head after his death and her graduation from his alma mater. Carrie Morgan tended bar on the Island at the Rose and Crown, and she wrote her novels about ghosts. She was deep into the paranormal activity and ghosts that inhabited Nantucket.
So when Sam showed up after tracing the provenance of the wardrobe to Nantucket and trying to piece the puzzle together--everything changed. It was love at first sight, and Carrie was able to help him immensely.
But Carrie had baggage too. She was double-crossed by her fiance who was only after her dad's wealth. So she took her revenge by securing Gant shirt tabs, his favorite shirts, and she constructed a belt made of her conquests.
Carrie no longer entertained the college boys and played little games with them. She threw the belt into the trash bin.
She and Sam fell deeply in love. And through her contacts and workmates at the bar, Sam finally began to put the puzzle into the final form. And he solved it, but it ended up costing him everything.