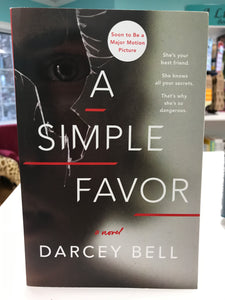 Thriller, Paperback
A single mother's life is turned upside down when her best friend vanishes in this chilling debut thriller in the vein of Gone Girl and The Girl on the Train—now a major motion picture from Lionsgate starring Anna Kendrick, Blake Lively, and Henry Golding, and directed by Paul Feig
"Debut-novelist Darcey Bell ramps up suspense with authority in this domestic thriller, in which actions seem as inevitable as they are chilling. The audience that made Gone Girl a publishing sensation is likely to take to this one, too."—Booklist

It starts with a simple favor—an ordinary kindness mothers do for one another. When glamorous Emily asks Stephanie to pick up her son after school, Stephanie happily says yes. Emily has a life that would make any woman jealous. She is the perfect mother with a dazzling career working for a famous fashion designer in Manhattan. Stephanie, a widow with a son in kindergarten, lonely in their Connecticut suburb, turns to her daily blog for connection and validation. Stephanie imagines Emily to be her new confidante and is shocked when Emily suddenly disappears without a trace, leaving her son and husband with no warning.
Stephanie knows something is terribly wrong. Unable to keep away from the grieving family, she soon finds herself entangled with Sean, Emily's handsome, reticent British husband. But she can't ignore the nagging feeling that he's not being honest with her about Emily's disappearance. Is Stephanie imagining things? How well did she really know her "best" friend? 
Stephanie begins to see that nothing—not friendship, love, or even an ordinary favor—is as simple as it seems.
A Simple Favor exposes the dark underbelly of female friendship in this taut, unsettling, and completely absorbing story that holds you in its grip until the final page.